Parent Portal Update: The Parent Portal and iPad/Android Apps will be down on Monday, June 26th from 8am-3pm while Final Report Cards are being stored for all grades.
LAP and LAMP Registration:
Applications for the Levittown
After-School Program (LAP)
and the
Levittown A.M. Program (LAMP)
are now being accepted for the 2017-2018 school year. All applications must be submitted online. For more information on these programs and to register your child please visit the links above. Returning LAP program applicants, please complete the application before 8/15/17 to reserve your child's placement.
The LAP and LAMP applications are temporarily offline due to system maintenance. The applications should be operational by the end of the day today.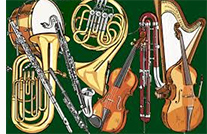 Instrumental Music Registration:
Registrations for new students in the district's instrumental program are now online. Hard copy registration form are still be available via your child's music teacher. Please use the following link to
register your child (going into grades 3-5) for a musical instrument.
Current Resources
In The News