Please Be Advised - Due to a scheduling conflict, textbooks will not be collected on Thursday, June 11th. All other collection dates remain the same. You may drop off textbooks June 8 through June 10 and additionally on June 22 through June 25 from 8 am to 12 pm.
Updated Return Procedures -
In accordance with the guidelines given by the CDC and Governor Andrew Cuomo, returns this year will be done OUTSIDE in the PARKING LOT. These guidelines may change and we will be in contact with you if they do.
Textbooks will be collected directly from your car. Please call (516) 434- 7136 when you arrive at the front GC Tech parking lot closest to Ranch Lane.
(Please see map below for correct parking lot location.)
Please wear a mask and bring the textbooks in a disposable plastic bag or reusable bag, which will be returned to you.
Please review this letter for all of the new, detailed information.
Please Note: - The Textbook Depository only accepts books for Private, and Parochial Schools.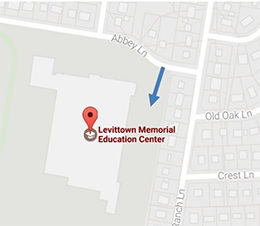 The Textbook Depository is located at the Levittown Memorial Education Center located at 150 Abbey Lane, Levittown NY 11756. Please pickup/dropoff textbooks at this location. (see map)
Please return all books to the Textbook Depository at Levittown Memorial 150 Abbey Lane, Levittown, NY 11756. For your convenience you may park in the East parking lot, the parking lot closer to Ranch Lane.
Any questions, please feel free to contact me at (516) 434-7136.