Lee Road PTA Fundraisers
BJ's Wholesale Club - New Application Form To Come In A Few Weeks
For each membership renewal, our school receives $5.00! Each renewal is at a discounted price, plus you get three additional months for free (15 months for the price of 12), so ask your family, friends and co-workers to help our school!
Please complete the application form and return it in an envelope marked 'BJ's', with a check made out to 'BJs Wholesale Club'. There is a box in the Lee Road Main Office labeled "BJ's".
*** PLEASE NOTE: Processing takes approximately 4-6 weeks, so plan ahead! (If your membership has expired, or is expiring soon, a temporary card will be given, until your renewal is processed.)
If you have any questions, call or e-mail Valorie Bove: Valorie1212@gmail.com / (516) 884-6737
---
Box Tops for Education /FundingFactory Recycling/Labels for Education
In addition to the periodic fundraisers that the Lee Road PTA holds, there are recurring, year-round programs / fundraisers that are easy to participate in and help your school just as much! The programs are simple and free. There is nothing to sell, no paperwork, no deadlines.
They are 'Box Tops for Education, Funding Factory Recycling and Labels for Education'. Just send in the items anytime - we'll take it from there! THANKS for your support!
---
Box Tops for Education - http://www.boxtops4education.com/earn/clip/Brands.aspx
Simply clip the 'Box Tops' labels off participating products. Some examples include: Avery, Betty Crocker, Bisquick, Brita, Cheerios, Chex, Cottonelle, Fiber One, Fruit Flavored Shapes, Gold Medal, Golden Grahams, Green Giant, Hefty, Kleenex, Land O Lakes, Nature Valley, Nestle Juice, Old El Paso, Pillsbury, Progresso, Total, Viva, Welch's, YoPlait. Send them into the school in an envelope marked 'Box Tops' OR use the 'theme' forms if you want your children to have fun and be a part of the process. Each one earns us 10 cents. See the detailed list of participating products. There's also an online way to contribute. Visit the website for recipes, coupons and more as well!
---
Funding Factory Recycling - http://www.fundingfactory.com/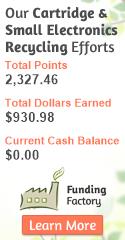 We are helping to keep the Earth clean while earning cash! Just send into school: your cell phones, and your empty printer cartridges from both home AND office printers. There is a container marked 'FundingFactory' in the Main Office. Note: office printer cartridges tend to earn us more $ [because they're larger] - consider asking your office manager if they would donate empty ones for our school!
We are also collecting old: digital cameras, MP3 players, GPS devices, and laptops. If you'd like to donate these items, please do NOT send them into school, but instead contact Donna Hoesten at 516 582 5639.
---
Labels for Education - http://www.labelsforeducation.com/
Simply collect the UPC symbols from: BIC, Campbell's, Franco American, Pepperidge Farm, Pop Secret, Post Cereal, Prego, SpaghettiOs, Swanson, V8 as well as Wolfgang Puck products and send them into the school in an envelope marked 'Labels for Education'. Each UPC code earns us points towards merchandise for Lee Road! See the detailed list of participating products.
---
Lee Road School Fundraisers
In addition to the fundraisers which support the PTA, the PTA assists in promoting the following fundraisers which support the school. Money earned from these fundraisers goes to the school, which Mr. Goss deposits in the School Activity Account. In recent years, these funds have been used to purchase recess supplies, a bench for the butterfly garden, and banners for the gym. These fundraisers cost no additional money to participate in - simply register your cards and shop as you normally would.
Stop and Shop - A+ Bonus Bucks - www.stopandshop.com/aplus
Register your Stop and Shop card on this website. Then just shop as usual and start earning money for our school. (Look for "Doubling Points" tags throughout the store to earn even more points when you shop). Even if you have registered your card in the past, you must RE-REGISTER each school year. Lee Road's School ID# is 07234.
Target Stores - Take Charge of Education - www.target.com/REDCard
Link your Target RED Card to Lee Road Elementary School at www.target.com/REDCard and see our rewards grow! Target donates a percentage of all REDCard charges back to our school every year. This is in addition to the 5% savings you earn when using your REDCard.